Prayer of John Paul II
Warsaw Ghetto on June 11, 1999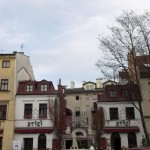 God of Abraham, God of the prophets, God of Jesus Christ, in you, all is contained; everything is directed towards you; you are the goal of everything.
Hear our prayer for the Jewish people, whom you continue to cherish for the sake of their fathers.
Raise up in them the ever keener desire to penetrate deeply your truth and your love.
Help them so that in their efforts for peace and justice, they might find support in their great mission of revealing your blessing to the world.
May they encounter respect and love from those who do not yet understand their sufferings, as well as from those who suffer with them from the deep wounds that were inflicted upon them, with a sense of mutual respect for one another.
Remember the new generation of young people and of children: may they persist in fidelity to you, to that which constitutes what is exceptional in the mystery of their vocation.
Inspire them so that humankind might understand through their witness that all peoples have one single origin and one single goal: God, whose plan of salvation extends to all human beings.