The Community today
Today's Bartrès community does not remove us from the Marian city of Lourdes. We are only three kilometers from there, and many pilgrims come up to Bartrès to remember St. Bernadette who lived there twice.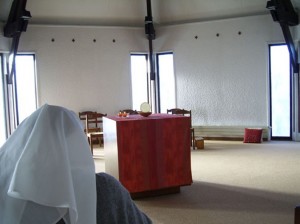 This year, we are celebrating 25 years of life in Bartrès. Twenty-five years of a life of prayer, of study of biblical texts, of sisterly life, of work, of hospitality. They have been years of joy, of many emotions, of tears…
Today, there are six of us. Our bookbinding workshop has been replaced by a small one for handicrafts.
We also have some rooms so that we can welcome guests who wish to live a time of silence, of retreat, of prayer alone or with us. This lets us meet persons who become our friends, people coming from every kind of background and who are not necessarily Christians.
We are well inserted in the village and the diocese, and we have noticed that priests, people involved in pastoral work, sisters like to come and work at our house for a day or more. This puts us in contact with the reflection happening in the diocese today.
We also have groups of pilgrims who like to spend some time: a Mass, a time of prayer, an encounter with us.
Through our life and through the people we meet, we try to express the Congregation's charism, which is "to witness in the Church and in the world that God continues to be faithful in his love for the Jewish people." (Constitution art. 2)