Four communities live together
A bit of history: on 20 January 1861, Father Mary was walking near the house rented next to the sanctuary of the Visitation in Ein Karem. While he was asking Mary for a sign to indicate the land on which he could establish himself, a rainbow appeared that spanned from the fountain of the virgin to the opposite hill. Father Marie saw this as the sign he had asked for. This is why, in the congregation, the piece of land is known as: land of the rainbow.
Who would have imagined that one day the whole Sion family would be united there to live his charism, each community according to its own call?
In a rainbow, all the colours are harmoniously combined… what a programme for us, apostolic, contemplative sisters and brothers, now living at St John in Montana! And with us a few associates as well. Also, as you know, since March 2014 we have the joy of having the international novitiate.
We wish to live together the complementarity of our calls, we wish to promote a unity that is communionand not uniformity, to testify in a new way in the church, and particularly the Church of Jerusalem, to the presence and to the mission of Sion today."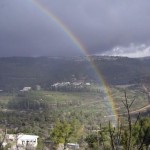 This is why we chose the name קשת: Qeshet – Rainbow – for the small committee the purpose of which is topromote the quality of our inter-community life. It is made up of a member of each community (sometimesincluding the members of the local Visioning Board and it meets regularly. Facilitating communication amongst our communities, calling for ideas, circulating information, taking needs into consideration, sharing experiences, coordinating common celebrations, organising shared relaxation, thinking out the concrete details of our lives… this is how we learn to live in partnership, to understanding each other better, to better respect each other.
Strengthened by the words of the psalmist: "Unless the Lord builds the house, those who build it labour in vain
(Ps 127), we journey, supported by the Word of God and taking our strength from the Eucharist.
Sr Martine Zaman